In Solidarity with Syria
2017. december 14., csütörtök
A delegation of the Reformed Church in Hungary recently paid a solidarity visit to Reformed Churches in Lebanon and Syria. Read the reflection from Diana Erdélyi, member of the delegation and RCH ecumenical secretary.
Between 4-11 December a delegation of the Reformed Church in Hungary traveled to Lebanon and Syria. The purpose of the visit was to learn more about the life and challenges of the Reformed Churches in the Middle East, expressing our solidarity with them and mapping out possible future programs for financial support together with leadership of the National Evangelical Synod of Syria and Lebanon, the Union of Armenian Evangelical Churches in the Near East and the Fellowship of Middle East Evangelical Churches, with these meetings being followed by personal encounters with local congregations in Homs, Latakia and Aleppo.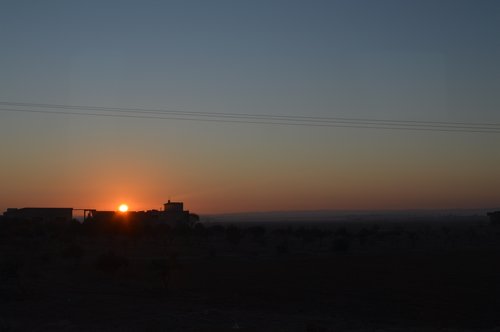 We haven't forgotten You!
Do you know the names of your family members? Of course. Do you know what is going on in their lives? Do you know if they are facing challenges or when they are celebrating joyful moments? Most probably yes! But do you let them feel that you know what is happening with them, that you follow the events of their lives?  If you pray for them, do you let them know that? Hopefully the answer is still yes.
But what if we are talking about the Reformed Family, with 110 million members all over the world? Do the member churches know what the other is going through? If so, how do they express their solidarity? Do the ones suffering know that they are not left alone? That they are kept in prayers of church members on the other side of the globe?
I had these questions in my head when I had the privilege to be a member of the delegation of the Reformed Church in Hungary (RCH), which paid a solidarity visit to Syria at the beginning of December. After meetings with the church leadership of the National Evangelical Synod of Syria and Lebanon and the Union of Armenian Evangelical Churches in the Near East, in Beirut, the RCH delegation traveled to Syria and visited local NESSL and Armenian Evangelical congregations there.
This visit again confirmed how important it is to demonstrate the relationship and, by our presence, make our solidarity visible to our family members. 
Syria is a beautiful country which faced and is still facing tremendous hardships, including military actions, economic crisis and the danger of losing hope for the younger generation. Everyone knows that Syria is in war. Everyone watches the news, but the level of compassion born from reading and hearing about it and thinking of those who are suffering reaches a much deeper level when you are on the spot. It is different when you are looking at the faces of church members with your own eyes and listening to their stories, even if some elements seem familiar because you heard about them on the news. This time it all becomes personal. The whole story comes closer: You learn that the explosion which happened just some days before your arrival in Homs (in a city which theoretically has been safe and finally in peace again for some years) killed people again and among the victims, one was a colleague and others were students of the church member whom I am sitting in front of at the dinner table. We hear it and we try to process this piece of information. We think we may understand it but we feel the need for stronger expression of compassion from our side.
At the same time we also feel honored to be there, meeting these wonderful church members and learning about how much they love their city and how quickly they started moving back to their old houses—now renovated—as soon as it was possible. We are already aware of the weight of these conversations, when the pastor thanks us for coming and being with them, and says "thank you for not forgetting us".
We hear the same words when we are in Aleppo and visiting the Armenian Evangelical Churches. They are so moved by our visit and we cannot handle their happiness over our presence. We did not do anything special. We came here to meet them, expressing our solidarity with them, and we truly think that they are the special and brave ones, since while we were enjoying our easy life they were living in these cities under siege like Aleppo and Homs. We just came now, when it was said that it is safer to come, but they were here during the least safe period of time, too.
And we hear again the words "thank you for not forgetting us".
I think even if we did not forget them and kept them in our prayers, we may have needed to let them surely know about it. More could always be done than "just" supporting them from afar. It is extremely important to let them know that we are with them, that we are praying for them and we did not forget them for a moment. This is what gives energy; this is what also gives strength to overcome the worst. This is the encouragement that family members need to hear.
I remember when in 2015 a delegation of the WCRC Europe visited Transcarpathia, the western part of Ukraine where the Hungarian-speaking Reformed community lives. Five member churches were present to listen to those Hungarians as they described what it was like to live as a dual minority (being both Hungarian and Protestant in Ukraine) and to be forced to take part in a war which is not theirs.
When I was listening to the problems and dilemmas of the younger generation in Syria, the question of whether to stay or leave, I recalled that visit to the Ukraine which left similar impressions. But I was also reminded of how moved the visited party was by the presence of the delegation from the WCRC Europe and how much it meant for them to really feel that they are not alone. They might be a tiny community in Ukraine, but they belong to a bigger family which cares for them.
This Advent season during our daily silent moments as well as at the dinner table at Christmas Eve, let us think about our Reformed brothers and sisters near and far, and pray for them. But we shall not finish there! Let our prayers be followed by a little sign of solidarity. Let us make our solidarity visible. Certainly not everyone has the chance to travel to Syria and meet local church members, but we all have access to internet to search for them on Facebook, to write e-mails, and to send them letters. They need to feel that they are not alone; they need to know that we have not forgotten them; they need to feel our solidarity and it needs to be expressed through loving acts, however small those acts might seem, especially at the time of long-awaited rebuilding.
I feel tremendously blessed that I could spend this couple of days in Syria and I could see beyond the depressing pictures of media, which are right in a way, that show the cities and people struggling so much. But what the media doesn't cover are the faces of kids in the educational center, happy because they can study, and the smiles of the Sunday school kids singing during worship. Most of them were born after the war started, and most probably they are unfortunately more used to hearing shelling than walking and playing freely outside the house with their friends. But when I looked at them and heard their joyful singing, I have seen the perfect demonstration of undefeatable hope, which put everything under a totally different light and simply energized me too.
Hungarian Reformed church members greet each other by saying "Blessings and Peace!" As we approach Christmas, I pray for lasting Peace for Syria and for all the regions of conflict and I ask for God's Blessings to all these people living there. I also kindly invite others to do the same.
Diána Erdélyi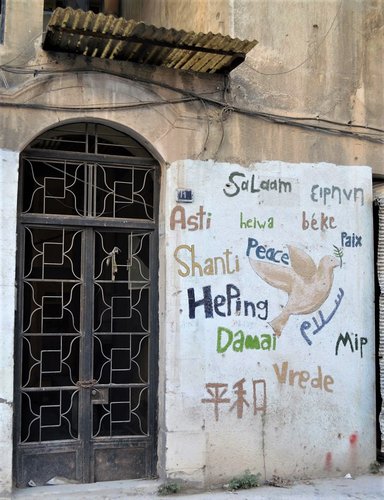 The delegation members were the RCH ecumenical officer and vice-president of WCRC Europe Rev Balázs ÓDOR, Head of the RCH Mission Department Rev Eszter DANI, CEO of the Hungarian Reformed Church Aid Mr Márton JUHÁSZ, Head of the RCH Refugee Integration Unit and vice-moderator of Churches' Commission for Migrants in Europe (CCME) Ms Dóra KANIZSAI-NAGY, CEO and Co-founder of Kalunba Services Ltd, implementing partner of RCH Mr Balázs ACSAI, HEKS-related Refugee Integration coordinator of RCH Ms Ágnes SZÉKELY, Editor-in-chief of the national church website of RCH (reformatus.hu) Mr György FEKE as well as RCH ecumenical secretary and member of WCRC Executive Committee Ms Diána ERDÉLYI