The ministration of American volunteers among refugees
2012. szeptember 10., hétfő
Ten teachers spent five weeks in the Bicske and Debrecen Refugee Reception Centres, in the Children's Centre in Fót, in the English Language Bible Study Camp organised by the Scottish Mission in Budapest and with the Roma Ministry in Jánd. The programme was a collaboration between the Synod Office of the Reformed Church in Hungary, the Refugee Mission of the Reformed Church in Hungary and the Educational International Service. Just like in the past years, the project involved English lessons in groups, with the aim to give refugees a better chance in the job market.
Russel Williams, who visited Hungary for the third time to serve amongst the refugees, talked with great joy about the time spent in the Debrecen Reception Centre.
"Sometimes we may not see the fruit of our labors, but we can rest assured that God will make the seeds we plant grow, and I am so thankful to see the plant which the Lord had used me to plant in the previous program here last summer... Just amazing."

Russell was welcomed by familiar faces in Debrecen. The refugees were taken by surprise when they heard that the teachers had come as volunteers and they would not ask for anything in return for their work. According to Russell, this fact is one of the most approachable signs of God's love and mercy for the refugees. This year, again, Russell was awaited by friends whose life he had been following for three years. He could see that his prayers had been answered as some of his friends now look into the future with trust in God. He was especially pleased to experience this in the Nyírbátor Detention Centre, which the American teachers from Debrecen visited with the Rev. Tamas Tarnok and the workers of the Refugee Mission of the Reformed Church in Hungary.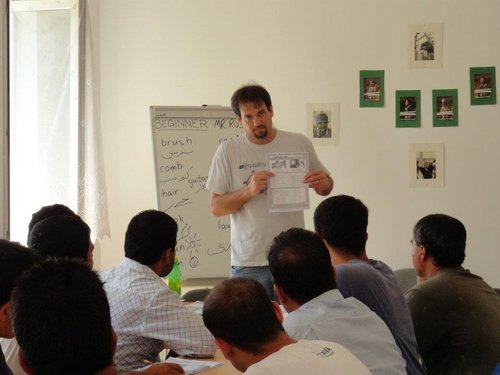 Due to his poor health, Russel has to face some difficulties. However, he would still like to return in the following years. Even if a long time period passes between two mission trips, it is possible to build on the foundation that was laid in the previous years.
"One of my students from last year invited me to his family's flat the other evening for tea or orange juice. While sitting around catching up with each other, he asked me for some help with "pronouncing" some vocab words in his giant spiral note book which he had written completely by hand, listing English words with Persian translation. The 1st word was compassion, 2nd Jesus, love, me, my family, hope, grace and happiness. Not exactly in that order but it was clear what he was trying to say and I asked him why he chose these particular words, for only a few of them were in the vocab I had taught him. He laughed and said, silly Mr Russ, last summer you said that you would pray for me and my family, and after you left we were so sad, and I remembered you told me that the seeds of happiness had already been planted. This compelled me to read from the online Bible I had downloaded on my computer and it was shown or made clear to me what you meant by this. He went on to say that he knew that I was forbidden to outright discuss religion or politics, and he knew that by practicing certain vocab words in mixed ways would not be a violation of camp rules, just in case the walls had ears. Though they may be refugees, they are very smart and most are quietly open to His word when He sets up place and time. My friend now has God's promise and hope, and even though he still hates being in this negative place, he knows that there is something better ahead of him when he gets out of here and starts a new life" – says Russell. 
Mixed feelings
A very important part of the service is to deal with the experiences. At the end of the fifth week, a final meeting was organised, where the teachers were able to talk about their experiences. The accounts awoke mixed feelings.
The teachers had the opportunity to get in touch with refugees coming from disturbing backgrounds. By the end of the programme, some of these refugees already considered the teachers as their friends. The teachers said that it was an outstanding experience to teach these refugees, to be able to mingle with them in everyday life and in their culture, and to listen to their stories. On the other hand, the teachers expressed their sadness for not being able to help more. While the teachers could return home to the USA, the refugees had to stay in Hungary with their everyday struggles. However, the love and attention from the refugees during the five weeks proved that even this small help counted a lot.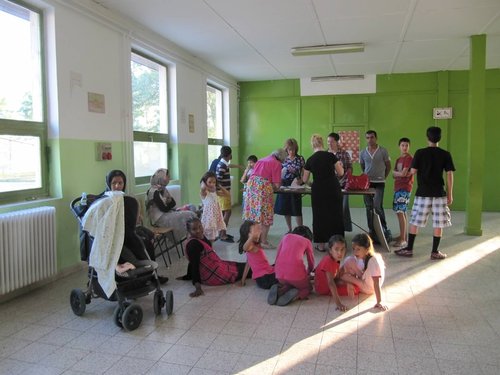 Another volunteer at the Debrecen Centre was Khristin Uhr:
"Thank you for everything – such beautiful words coming from one of my students on the last day of class. I appreciated his gratitude, wished I could do more, and was dumbfounded he could articulate this sentiment, because when he came to class a month earlier, he did not speak a word of English.
Since I came back, many people have asked me how I taught students who spoke no English. I can only answer that every day we were in the classroom, we totally relied on God's grace to give us wisdom.
This summer I lived and taught English classes in the refugee reception center in Debrecen, Hungary. I co-taught a beginner class for men who spoke no English, although toward the end some men came who already spoke some English. I also helped in a beginner class for women, and taught an intermediate class for young women, age 13-19.
Something else we did to get to know the women outside the class was "conversation club" on Tuesday evenings. This is the report that I sent to my prayer supporters while I was still in Hungary:
Last night we were invited to a few of our students' home and were treated to an Afghan dinner and dancing. We invited the beginner and intermediate classes and talked about family, weddings and marriage. We all had a wonderful time together, laughing and crying. At the end of the conversations, we had been talking about Afghan dancing at weddings. We asked them to teach us, but we were in a room with windows that opened up to where the men were outside. Then one of the girls invited us to her house where she could teach us dancing. So last night we went over and they had cooked a wonderful meal, showed us music videos of Afghan, Indian, and Pakistani dancing. By the end of the evening, we had all danced, although I still don't know how to dance Afghan. Our students are beautiful dancers, but they said they didn't know how to teach us."
Laurell Ann and three other teachers worked at the Bicske Reception Centre:
"The Bicske team of four women arrived in late June ready to meet and teach the refugees in camp. Many refugees seemed eager to join our classes and we scheduled four different levels of English class to accommodate everyone who came to learn. Fifty adult refugees began classes on July 2, but soon their children began to show up with their parents to learn alongside them. When we saw that the kids learned much faster then the adults, two of us started additional classes for children. These were a great success and were well attended for four weeks.
The adult class attendance dropped off to about half when Ramadan began on July 20. The Muslim adults were sleeping during the day or were busy with religious practices. This allowed the teachers to develop closer relationships with those students who continued to attend class. Many were curious about our faith and we were able to share with them our beliefs and hope in Jesus Christ for their successful resettlement."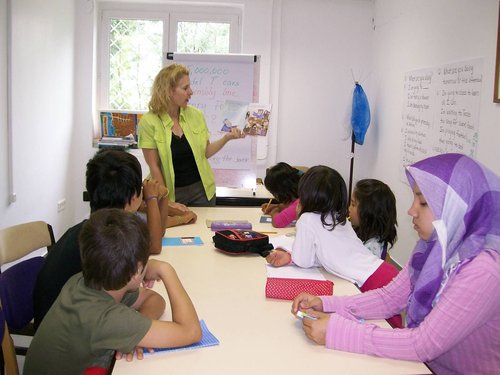 A different ministry
Two teachers' service was a little bit different from that of the others. Jen and Jody taught the students who participate in the school integration programme of the Refugee Mission of the Reformed Church, and who live in Fót Children's Centre. They also taught in the English Language Bible Study Camp organised by the Scottish Mission in Budapest, and they helped organisers at the Roma Mission in Jánd. This is how they recall their experience amongst the Roma and refugees:
"Being in Hungary has been a tremendous blessing because of the people we have met and the places we've seen. Our first two weeks were spent at St. Columba's Scottish Mission English Bible Camp. At the first week's camp half of the kids were refugees and half Hungarian. We came into the first week's camp late Tuesday as the kids were discussing Daniel and the lions' den. Reverend Aaron was quick to welcome us and introduce us to the children. We then played a name game so we could learn each other's names. When camp was over, Aaron and Njeri sat us down to formally greet us and then explain how camp would run. Wednesday was trial by fire since our afternoon activity was going to City Park. This was a great chance for us to interact with the children and play games. It gave us several opportunities to speak with them while walking and riding public transit. Week one was a good experience, because by the end of the week all the children were intermixing well and speaking more English. Week two offered something different, because there were more Hungarian children; yet, it was a good experience watching the children help each other learn the Bible stories on courage. On our third week we traveled to Jánd to work with Éva Forró at a Roma Hungarian Bible day camp. The children's English was much more limited than at the Scottish Mission, but they were just as eager to learn. Although communication was difficult, the interaction was easy, because of the inviting spirit of the children who wanted us to play games and sports with them. We were able to see the work of the Lord by the time we left Jánd because of how well the children interacted at the end of camp, and their excitement to come to church on Sunday. Our last two and a half weeks were spent at Fót Children's Center teaching English to underage refugees. From the first day everyone was very welcoming. We had to divide one class, because the turn-out was so great on our first day of classes. We then added an open class for discussion and games. Although some students struggled to wake up for class, most students were diligent in coming to class. They were so excited to learn and eager to talk with us. It was eye-opening and a blessing to hear their stories. Once we had our classes scheduled, students began to invite us to play games, watch sports and eat with them outside of class. One evening we were invited to help cook for Ramadan. We were excited about the opportunity to cook for some of our students. It was interesting to see all the different types of food everyone was cooking. A group of guys then invited us to join them for dinner and we enjoyed all the food they offered. It was a fast five and a half weeks, but an amazing experience! We will cherish our time in Hungary for the rest of our lives!"
Refugee Ministry and Ecumenical Office of RCH