Strengthening Today's Partnership for the Church of Tomorrow
2014. szeptember 05., péntek
At first glance, the connection between Hungary and Korea may seem distant if not all together non-existent. However, the historical parallel between the Korean and Hungarian people has become a solid foundation for cooperation among churches.
The Reformed Church in Hungary (RCH) and the Presbyterian Church in the Republic of Korea (PROK) have been members of a formal partnership since 2006, and has since maintained strong relations on every level of the church.
Most recently, Rev. Dr. Min Heui Cheon, the PROK Executive Secretary of Ecumenical Relations, visited Hungary with two main objectives in mind. The first of which was visiting two PROK mission co-workers located in Budapest to determine the acclimatization to their new placements, and the second was to further develop the cooperation between PROK and the RCH.
Both mission coworkers arrived in Hungary within the last year but are serving in different areas with different focuses. Rev. Jong Kwan Choi has come to serve with the RCH ministry among Roma in the 8th District of Budapest – the 8th District has the highest population of Roma in the city – while Rev. Seon Koo Kim is a professor of Korean language and culture at Károli Gáspár University and actively supports Roma mission in Debrecen. Along with his wife, Rev. Kim leads the Korean Mission and Culture Center, which was started in the mid '90s with funding from PROK in the reformed church at Kálvin Square.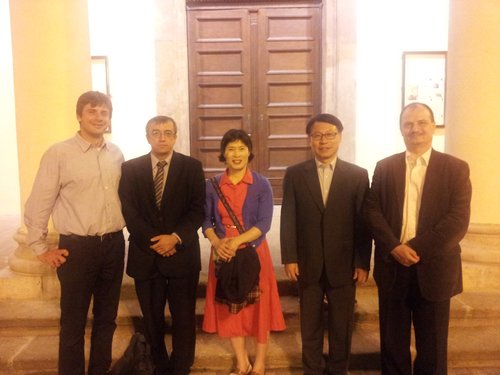 In terms of developing cooperation, the executive secretary was able to meet with representatives of the RCH, including Ecumenical Officer Balázs Ódor, Head of Mission Eszter Dani, General Secretary Zoltán Tarr and Bishop Gusztáv Bölcskei. Among the topics discussed was one-year scholarship exchange program between the theological universities of Han-Shin and Károli Gáspár, which will now be extended to the Debrecen Reformed Theological University as well. Another topic examined was the possibility of placing international mission interns in order to equip young people and the next generation of church leaders and as conscious preparation the church of the future.
Additionally, Rev. Cheon agreed upon a framework of cooperation in the Carpathian Basin, the first step of which is supporting the Reformed Church in Sub-Carpathia, Ukraine as it faces this tough situation in Ukraine.
Furthermore, on 10 August the RCH, alongside WCC member churches from around the world, participated in a joint prayer for peace and reunification on the Korean peninsula, resulting from the recent WCC ecumenical consultation in Bossey, where both PROK and RCH representatives were present.
Amy Lester