Hungary Signs Accord to Support Iraqi Clinic
2017. május 31., szerda
The government of Hungary recently signed an accord with the Archbishop of Erbil to donate a large sum of money to a hospital in Iraq that serves mainly Christian refugees. The gift is meant to cover the clinic's medicinal supplies for the next six months. 
Hungary's government is donating $525,000 (145 million forints) to Saint Joseph's Clinic in Erbil, Iraq, which provides services for mainly Christian refugees living in the city.
An agreement on the donation, meant to cover the clinic's medical supplies for six months, was signed Monday by Hungarian Minister of Human Resources Zoltan Balog and Archbishop Bashar Warda, a Chaldean Catholic cleric in Erbil.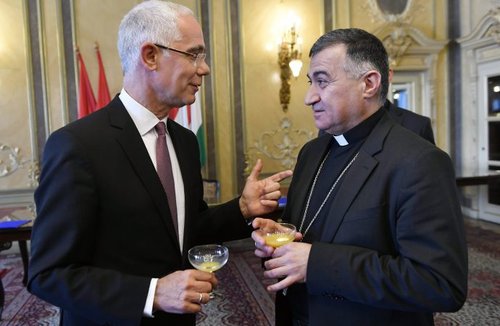 Warda said his archdiocese received 13,200 Christian families in August 2014 after they fled Mosul when the Islamic State group took control of the Iraqi city.
"Some families will not be able to go back, because their houses have been destroyed completely or burned," Warda told The Associated Press. "They need some time before making their way back to these villages."
Warda, who will meet Tuesday with Prime Minister Viktor Orban, said the donation "will be a big help" for the clinic, which provides free medicines to 3,100 people with chronic diseases.
The treatment of Christians in the Middle East was akin to "genocide, cleansing on a religious basis," Balog said at the signing ceremony. "The Christian quarter (of Erbil) practically turned into a refugee camp."
While Orban views the large number of Muslim migrants reaching Europe as a threat to the continent's Christian values and culture, last year the government set up a deputy secretariat within Balog's ministry to help persecuted Christians, especially in the Middle East.
In February, the agency said it gave $1.1 million each to Syria's Orthodox and Catholic churches to assist the return of refugees to their homelands.
Article via cruxnow.com
Written by the Associated Press
Photo by Tibor Illyes/MTI via AP