The Bible of Vizsoly became Hungaricum
2015. március 04., szerda
Hungaricum is a value which is typical for Hungary, recognized both in Hungary and abroad and the Hungaricum Committee classifies it as Hungaricum.  In 2015 the Hungaricum Committee broadened the Collection of Hungaricums. The first Bible printed in Hungarian, translated by the Reformed Pastor Gáspár Károli is now on the list of Hungaricums as well the Hungarian bow of the IX-XI Century and the paprika powder of Szeged.
The Bible
The unique document of the 16th century's Hungarian language, the printing of the Vizsoly Bible had been finished on the 20th of July 1590 in Vizsoly, which is situated in the present-day Borsod-Abaúj Zemplén County. Up to this day, Vizsoly is remarkable because the first complete Bible in Hungarian that has been published in printed form was here. It is also called Károli-Bible after the translator pastor in Gönc, Gáspár Károli.
Vizsoly was titled as market town in the middle ages. This rank can be thanked for the importance of the bridge, built on the Hernád, for thepassageway to Kassa, Poland and Russia and for the two-ways directing into the Zemplén Mountains. We can find among its holders such important names as Rákóczi Zsigmond, the founder of Rákóczi dynasty, the determined Turkish-fighter, Mágocsy, and the families of Semsey and Keglevich.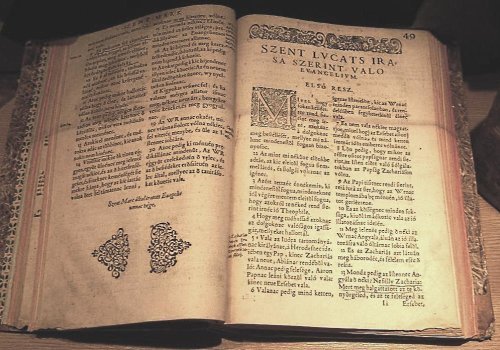 This book is the oldest surviving (and still used), full Scripture, translated into Hungarian language. The Polish Bálint Mantskovit (or Mantskovits) did the laborious printing work in Vizsoly. Characters were transported from Germany and paper from Poland.  The translation and printing was supported by Zsigmond Rákóczi's generous donations, who was the Lord of the Town, the later Prince of Transylvania. With this action he founded the Rákóczi family's love for the Bible and as supporter of the Hungarian culture he became an example for the later generations.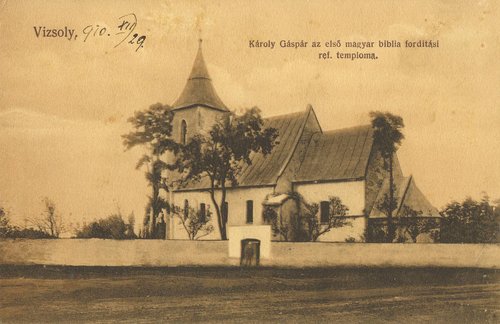 The Vizsoly Bible exhibition
This summer will be the 425th anniversary of printing the Vizsoly Bible. On this occasion, the József Samodai Local History Workshop in Zugló (Budapest) has organized an exhibition at the beginning of the year. The exhibition was hosted until mid-February in Budapest Liptak villa, and after that as a travelling exhibition it will be presented across the country. As part of the exhibition Bible translations of different ages and works of art connected to famous Bible translators can be seen. Besides the scientific presentation, the tableaus seek to present the Bible's impact on the later ages and cultures. 
Bianka Bénó