One year of service in Hungary - voluntary programme of ÖDE
2012. július 19., csütörtök
"Szia! A nevem Tabea", says a German girl in surprisingly good Hungarian, wearing a big smile on her face. "I've been working as a volunteer at Bethesda, mostly playing with kids", she continues in English. "The job was just perfect for me."Twenty-year-old Tabea is one of the thirty young people who did voluntary diaconical service in Hungary in the past year. Their last team meeting, which we also attended, was held at Lake Velencei.
Adjacent to the Reformed church of Velence is the Timóteus Guesthouse. The Lake Velencei beach is only about 1 yard from the church building. The closeness of water is indicated by the sedge growing in the church yard. The heat is made tolerable by the shades of bushy trees, happy singing and laughter. Young people are playing on the green lawn as our car rolls through the gate. Emese Závodi, the Reformed minister comes to greet us. She is the leader of the group.
One year abroad
In Hungary, the Voluntary Diaconical Year in Hungary (ÖDÉ) was launched in 1997. For the past two years, it has been managed by the Church Aid Office. Since 1997, over 800 young volunteers have contributed to the diaconical work from the 14 European countries or the 3 American churches that joined the international programme. We have had young people of several nationalities serving in Hungary.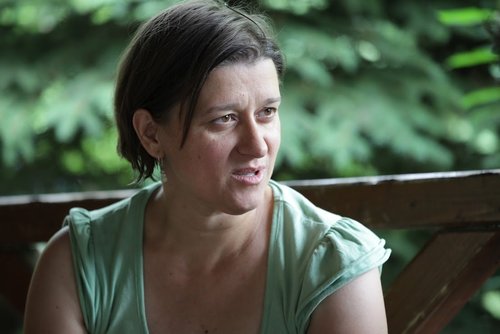 "This year we are working with about 100 volunteers. 70 went abroad and 30 came here", says Emese Závodi, who has been the leader of this programme from the start. Most of the volunteers are Hungarians from Ukraine or Germans, but some Hungarians from Romania and some French also came, and as it turns out, there is even an Italian and an English person among them.
The 30 volunteers have been serving in Hungary since last September: in Budapest they work in a children's hospital and at homeless shelters, in Debrecen, Dencsháza and Veszprém they serve children or the elderly, in Szendrő they work at the family home centre, and in Magyarmecske they take care of young Gypsy people on a daily basis. Their work in Hungary continues for a few more days, then, at the end of July they return to their families.
The Diaconial Year in Hungary programme is a long-term, fully voluntary service during which the participants work seven hours a day and 35 hours a week, for eleven months. The volunteers are between 18 and 30 years of age. They receive accomodation, full lodging and even some spending money. Their financial support is provided through the tenders of the EU-funded diaconical programmes (Youth in Action, European Voluntary Service) and state funds. EVS (European Voluntary Service) accredited organisations and institutions are eligible to receive the volunteers.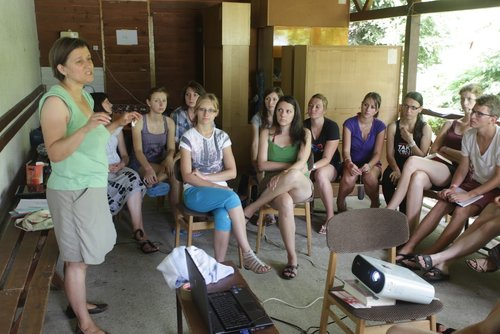 During their stay, the voluntary workers are assisted by Emese and her colleagues; they can attend lectures, and at the end of the voluntary year they are given a certificate. In addition, they can participate in team building events and Bible studies. They also take trips in Hungary.
To be attentive to people
"Before university, I wanted to travel, to get to know other cultures, to meet people. So I became a volunteer", explains Jonas. For quite a while, our conversation has been going in Hungarian with the twenty-year-old German youth. He has acquired the language quite well. After their arrival, the Western-European youngsters take part in an intensive language course, and later on they are given more lessons.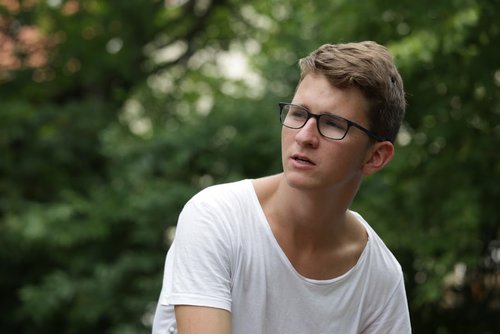 The knowledge of Hungarian was necessary for Jonas, as he was serving among homeless people in Budapest. He was working as a volunteer of the Tiszta Forrás Foundation. "I worked mostly at the daytime indoor centre, but I was also out in the streets. I felt useful, because I wasn't only watching these people, but I was actually able to help them."
In the past months, he not only became familiar with a new language and a new city, but he learnt a lot from the people. Earlier he thought he could change the world. "I realised that people are not to be changed, but they should be helped in their everyday life. We have to be attentive to people and their needs."
Seeking answers
Jonas and Tabea came to Hungary because they wanted to see the world after their highschool graduation, and they saw voluntary work as a good opportunity for that. After completing the eleven months, just like the other Western-Europeans, they will go home, and hopefully they will continue their studies at a university. At the same time, Hungarians coming from Romania or Ukraine consider the diaconical year more as a kind of service; they often mention God's calling in relation to the voluntary work. What all the volunteers have in common is that they all regard their stay abroad as an important phase in their spiritual progress, in their detachment from their parents and in becoming independent.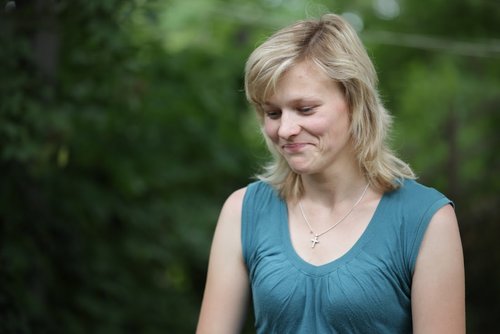 Vali comes from Som in Ukraine. The 24 year-old girl considers it a suitable task to have to watch nursery kids, draw princesses, read fairy tales or oversee the children in the yard, together with a Hungarian volunteer from Romania. Vali studied to be an RE teacher, she has been doing youth work for years. She was the leader of her own church's youth group together with her friend for a long time. "I really like this, service is my life", she says. Her future is still full of question marks, but she trusts God.
In the meantime, the game in the courtyard is coming to an end. The team is getting together in the porch for a new activity. The organisers are also using the five-day seminar to give the volunteers an opportunity for evaluation and reflection, so that they can see how all the things they have learnt could be used in their life. A year spent abroad in service is sure to leave a mark on any individual's personality. Some got closer to God. "This morning's devotional was held by the French girl. When she first came, she did not feel up to doing this", reveals Emese Závodi.
"Fussball" - the common language
Jakob from Hannover, who was placed in Magyarmecske, spent the year working with Gypsies in a training centre. He admitted that the first two months were hard for him, because he didn't know the language, and the small village was a completely new environment for him. It wasn't easy for him to settle in, as he had to face the stereotypes people had about Germans, but he was not to be defeated.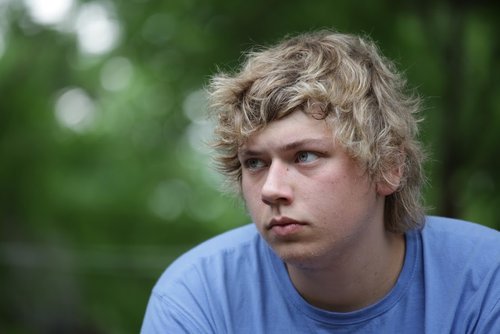 He memorised all the names that belonged to the faces unfamiliar to him, and they taught him to play fussball, which did not require the knowledge of Hungarian. Soon he became a champion. "I learnt a lot about Gypsy culture and music", he explains. "This is an open community, and the people are funny. I'm really sorry I have to go home. I enjoyed being with them." Living inside the community, Jakob came to the realisation that he wants to study law, and he wants to work in the social sphere – he wishes to serve others even after completing his diaconical year."
Translated by Katalin Burns