Genuine Life- Genuine Message
2015. július 15., szerda
It is only a weeks before Starpoint begins where Keresztkérdés is going to perform as well. As of this occasion, we have been talking with Dani Kübler, the frontline man and Ildi Nagy, one of the singers, about the band, their aims and plans.
You are becoming increasingly well-known, your album 'Szintet lép' (Level Up) was released not long ago and you are performing more and more. Are you frequently going to interviews nowadays?
Dani: I'm getting asked to perform more and more, mostly by radio stations or TV programs. Recently, for example, we were heard on Budaörs radio and seen in a TV program called '1 like Hip Hop'.
Ildi, you are the newest member of the band. How long have you been singing in Keresztkérdés?
Ildi: We came into contact in February, when I was still singing in another band. We were performing at the same place, when Dani contacted me and asked whether I was interested in joining them. Practically, I instantly said yes. I got into the final stage of a one and a half year long process, directly before the release of the album. Everything happened so fast, we talked through a few things on Wednesday evening, then on Friday we went to record the songs and on the 1st of March I was singing live in Debrecen.
Ildi Nagy is a member of the Reformed Congregation of Külső-Kelenföld since birth. This is where her first band, in which she performed for the first time, was formed. She was previously learning to play the piano and saxophone as well, but according to her, singing is the one thing that always has and always will be with her. She has been singing in the vocal ensemble called 'Boyzless Voice' for a longer period. Currently she is studying Business Administration and Management, as well as Communication and Media Studies, but besides that she is singing with full heart and soul in Keresztkérdés.
Dani, just a moment ago you interrupted with a laugh, saying "the question is not since when but rather until when". Why?
Dani: There is a relatively big fluctuation in the team, so that is why it is a relevant question, but we are trying to change that. I invited Ildi into the team so that we had a girl to sing vocals, change the vocal image of the band, and someone who really wants to be among us. Due to different objective reasons there were a few changes in the past few years concerning the members that is why I like to joke about that. But those who are in the band right now, love, know and want to do this.
Ildi: I have to add, that the members are playing in other bands as well and in everyday life they have their professions too. It is a very heterogeneous team and it is not always enough to want to be in the band. However, besides this we are all trying to give our maximum.
How many of you are in the band right now?
Dani: Right now there are 8 of us, but sometimes there are even 10 members at certain concerts. We can only state the exact number when we get off the stage. There are 2 singers, a drummer, a bassist, a solo guitarist, 2 synthesizers and me. The core knows the program when aroused from their sleep, but occasionally there is also a rapper who helps me, and ideally there is also a DJ.
With such a background and with your more and more expanding repertoire, what is Keresztkérdés to you? Do you regard making music as a hobby or do you think of yourselves as a professional band?
Dani: It is not a professional band in the sense of income, but in the matter of sound and music it definitely is a rival to the other current 'pop-underground' bands. The members are very talented, they know the songs and their instruments well; if I had to gather 8 members again, I would pick the same people. It is an honour for me to play with them and I love to do it. Besides I have a job, where I try to be better at so that I have money to invest into the band (laughs). If we want to be exact, I would say that this is a hobby. A hobby which is taken very seriously.
Ildi: The attitude is clearly professional and we try to provide professional quality as well. It is important for the music, the concerts and the visual appearance to be of high quality. Our album is available in online music stores this is already a finished production. That is how we prepare for Starpoint as well so that the audience would get quality of which they would say "it was worth coming, it was worth inviting Keresztkérdés!"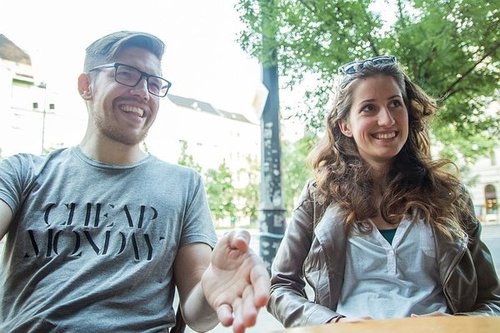 How does it feel like that you will be playing on the Main Stage of Starpoint?
Ildi: To be honest, I cannot even believe it... I have been on Starpoint both as a participant and as performer but this is a whole new situation. Of which I look forward to, of course.
Dani: If I released the pompous side lying deep inside of me, I'd say that the band is finally where it should be. The quality of our music and production has reached a level where it is ready to be heard and seen by more and more people. I am a bit unsettled about Starpoint: I don't know what the audience really wants especially those who listened to Mary PopKids the previous night and will listen to Magashegyi Underground for the next evening and what they will make out of our performance, because they do not know us that much yet. But this is exactly the good thing in our performance that it catches you and excites you even if you do not know it yet. Or at least we get this kind of feedback usually, when someone wanders into one of our concerts. By the way, when I first saw the poster where our name was in between the other two bands, I immediately forwarded it to my dad and then to every acquaintance of mine. We have a great responsibility, but one thing is for sure: the concert is going to be such an experience that I would definitely go see it.
The band has already participated at Starpoint, and they have sung in other Reformed Events, you are more and more well known. Do you consider Keresztkérdés a Christian band?
Ildi: It is hard to answer this question definitely, because our concerts are not worship-like, but even everyday life itself is not entirely about worshiping. We have got plenty of feedback after our concerts saying that the lyrics have sense and message. With Dani and with the other members of the band we consider it the best to do something which can be taken everywhere; it can be spread and has a message.
Dani: My short answer would be a "no", but the question is much more complicated than that. We, Christians prefer to classify things according to the Christian or secular views, but in case of an artistic activity it is a complex problem, from the non-believer musicians who play the Passion to those Christians who play boisterous music for a living, there are many examples, which blew up this two-point scale.
Keresztkérdés has many steps, our lyrics and messages are multi-layered. Our message is Christian, because I'm one as well. I am a rapper and a Christian, and from this a positive message is conveyed which points to God, and in such way it is valid. If there is a reason why this band is Christian, then it is that all the eight members go to church on Sunday. To us, the most important thing is to play music which is acceptable and can be listened to by everyone. Apart from these I would say that the band is indirectly Christian, but our goal is to reach as many people as we can with our message. For this, we need authentic life and understandable composition. I could not set up a different band, my life is such like this and I feel it true in this way.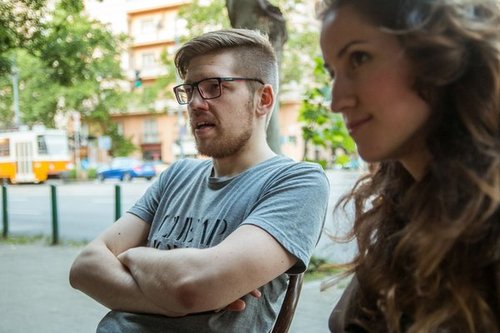 What does it mean to you that many people characterize you specifically as a Christian band?
Dani: We have come from such circles. At first, Keresztkérdés played at Reformed, Baptist and Catholic events. It is not a negative impression, but a Christian band is different from our band that we are now. In case of a bigger audience we do not emphasize this in the first place, instead we do show them our relevant lyrics and good music. The tusk of the audience is to get the message, but those who pay attention, will understand everything. We would like to break out of the box, but we are not going to deny our faith and we don't want to change our name. We would like our production to have raison d'etre outside the framework of the church, to get along without fundamental Christian love and kindness. We signed up for this and this is a great adventure. Especially in such way that meanwhile we stay true to ourselves. Widely, bands are not labelled according to ideology, but musical style, and we would not like to have Keresztkérdés categorized in such way. Meanwhile, we aim to remain good Christians and actually to be better. In my opinion, we remain trustworthy if not the audience, we are those who identify ourselves.
It is clear that your songs have various messages on many levels. They definitely give something to those who are listening to them. But how do you feel, what does Keresztkérdés give to you?
Ildi: I have already played with many talented musicians, but I have not participated in such production which is so ready to "level up" as the title of our album says. In case of important things we are of the same opinion and it means a lot, that I have found my place. It suits me and I suit it as well. It feels good to say something, something which the audience listens to and makes them happy. Here, I feel good and I try to do my best.
Dani: To me, this band means the self-realization. I have a job, I have a family consisting of only two members so far, I have important service within the Church, but still, this is such a thing, where I can be myself, and I can unfold my thoughts. It is a great experience that such a team is standing behind me, that is able to create a high standard production from any basic idea. What I get, is the audience itself. The fact that the club concerts have started where a curious and active audience is present opens up new dimensions. Last summer it happened for a first time that during our song: "Not for you" I say "put your hands up in the air" and people really did put their hands up. It is good to experience this.
Dani Kübler founded Keresztkérdés live in 2009, but long before this music already played in important role in his life. He is a member of the Baptist Congregation of Wesselényi Street, he grew up in church environment, at first he played music and sang in its choir, and then he got to know rap music. In his civil life, he is doing online views survey, but beside this he writes the lyrics of the songs of Keresztkérdés. According to him he has written rap lyrics since he was 12, he feels like he grew up with this.
What are your plans to the future?
Dani: Primarily we would like to make the most of it from our existing songs. It would be good to introduce the band to the Hungarian 'Pop Underground'. We would be happy, if we managed this, but we close our performances with such a good mood, that we will keep going happily anyway. The main power which is driving us is that we are able to convey our messages in this form to a much wider audience. There are new things taking shape lately, we will have a few concerts. One thing is sure: we are going to meet on 23th July on the main stage of Starpoint!
Zsuzsanna Farkas, photo: András Dimény
Translated by: Enikő Essek, Dalma Kalácska