Light at Easter in dark times
2015. április 02., csütörtök
We cannot see the end of the tunnel yet, but it is certainly there – claims Sándor Zán Fábián Sub-Carpathian Bishop. The weekly of the RCH asked him in an interview about the meaning of the Easter gospel, and what gives hope in difficult times to the Sub-Carpathian Reformed Hungarians despite the hardships.
The situation of the Hungarian Reformed community is getting more difficult day by day and we are facing new challenges– started Sándor Zán Fábián in his report concerning the Reformed Church in Sub-Carpathia during the Presidium Meeting of the General Convent in Berehove on March 23rd.
We cannot see the end of the tunnel yet, but it is certainly there – claims Sándor Zán Fábián Sub-Carpathian Bishop. We were discussing the meaning of the Easter gospel in this region, and what gives hope in these times to the Sub-Carpathian Reformed Hungarians despite the hardships. 
How will Sub-Carpathians celebrate Easter this year? Will there be ham on the table?
The Sub Carpathians always celebrated the religious holidays even in the most rigorous decades of the communism. Today there is freedom to celebrate, but the crisis stigmatizes our celebration. Unfortunately, in many families the most important question is not the ham.  The pastors during Easter will preach on resurrection from the pulpit, and children spraying water through their recited poems will also bear the Easter message, but the gospel this year will be different for many people. I am referring to those families where it could be impolite for young men to visit the girls on Easter Monday to spray water and recite poems to them. Maybe because they will think that it is only a few weeks since they buried their father who was a fallen solider. Maybe it is impolite indeed. I do not know…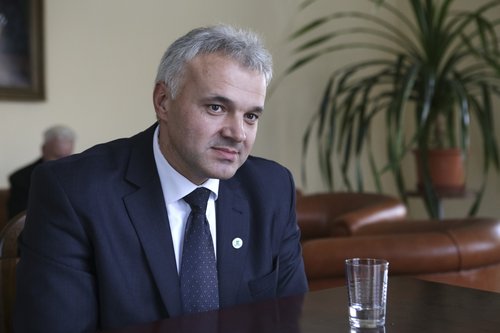 Are there many families like this in the reformed congregations?
The numbers are not important. Even if I am thinking of just one family it is more than enough because it affects more than one person's fate. Think of the widow with three children whose father was taken to die in a meaningless war in which it is not clear whom we are fighting against or why.  If we are preaching from the pulpit and see these people we have to preach the gospel of resurrection in awareness of the recent mourning. And the resurrection seems to be a distant source consolation for them.
It seems to be distant, but this is the only consolation
The resurrection gives hope to millions of believers. This hope gives meaning to earthly struggles, and gives meaning to the sacrifice of several thousands of victims. This is what changes our thinking: it teaches us not to live our life in earthly temporary terms, but to focus on the eternal perspective as when we make decisions.
 

The Bishop of Sub-Carpathia noted that the electricity company will charge industrial electric tariff for church buildings including manses. This means 60% rise in price for the congregations and other institutions. The Church leader added: the gas bills are four times higher than before, for this reason, the furnaces donated by the Danubian, Cistibiscan, and Transylvanian Reformed Church Districts, and the Hungarian Reformed Church Aid, bare great significance in reducing the costs. The heating cost of the school of Nagydobrony is for example 10 times lower than it used to be. According to the report, the Church is charged property-tax. Exemptions are sometimes provided by city councils, but this is not a long term solution because the budgets of the city councils are also tight: for example, only two of the thirty two settlements of Nagyszőlős County were able to finance their expenses from their budget.

Sándor Zán Fábián, while speaking on everyday life of the congregation mentioned that a significant proportion of men of Sub-Carpathia are absent, and their churches are empty. The church eldership has also decreased in numbers so we had to get rid of some rules in regards to meetings, such as, only three absences are allowed for the elders. "We hope that the situation will stabilize soon and the congregational and family life will return to normal" – in giving voice to the hope of the reformed in Sub-Carpathia, their spiritual leader also added that they have many war victims among their Church members and there are those whose whereabouts are uncertain, they could have died or have been imprisoned. "The orphans and widows are staying here and we are uncertain whether or not, the state will pay compensation for the losses as promised."

In regards to the Reformed Schools he said: their operation is secured by the Hungarian State. The State will provide 85 million forints during the following weeks to the Hungarians of Sub-Carpathia through the Hungarian Caritas, the Roman Catholic Aid Organisation. – We hope that our Roman Catholic Brothers will share this amount in proportion to denominational membership ratio bearing in mind that the majority of Hungarians living in Sub-Carpathia are Reformed – noted the Church leader.
The Hungarian Reformed Church Aid is continuously shipping aid to Sub-Carpathia, and in addition to this there are many other sources from all over the Carpathian Basin. Is there anything more that you need, how can the people with goodwill help you?
The daily aid shipments are giving essential help to those who are in the greatest need. But in order to secure the survival of the Sub-Carpathian Hungarian community we need a sustainable program which provides us with possibilities to stay in our homeland. It would be good for the Sub-Carpathian teachers, doctors, large families, and food providing entrepreneurs and farmers to feel supported.
And I am not referring only to financial aid. It would be enough to establish associations that would care for the representation of the interests of different social groups and professions - for example association for large family or teacher trade unions – which could work together toward a common assistance program in the Carpathian Basin that revolves around solidarity.  For certain Sub-Carpathian families a few extra thousand forints per month could contribute to their welfare. 
The Sub-Carpathian Hungarian Reformed community of 70000 people is not just talking about collaboration and self-reliance. They have their own fire service, education system, charity kitchen, foster parent network, nursing home for disabled people, Roma mission etc. Is this way of setting an example for the society?
Many respect our community because we are trying to get over the difficulties instead of surrendering to them.  We still have a lot to learn, but others can also learn from our example. We could live in a different country if other communities coped with the problems like us.  Obviously the state is not functioning so instead of pointing at Kiev and others every community should think about local solutions. If this happened the country would certainly recover from the crisis.
Do I understand this correctly? Would regional autonomy and decentralization be the solution?
Yes but I am getting more and more afraid just to say it because they will accuse me of separatism. People lost faith in the corrupt political elite and authorities because they are deceived everywhere. When it comes to taking responsibility the parliament and department councils are pointing at each other. Anyway it is not fair to dictate from Kiev when the sun rises or when the apples grow. Because here, the apples are growing earlier and the sun rises later. This is a question of geography not politics. A tradition of thousands of years which cannot be erased after few decades.
Are you not afraid of being abducted by Large Black car one day?
Here in the Ukraine, it is hard to decide what you should not be afraid of. We still have to talk about decentralization which is the only possibility for the common people to feel at home in his/her own country.
In March the leaders of the Reformed Churches of Carpathian Basin held meetings and Church delegations from the Western Europe and other parts of the world were also here. What is the significance of these visits?
This is mainly how the fellow Churches express their solidarity. You can read a lot about Ukraine in the media, but the people still know very little about it. Through this, the Church leaders are informed about the real situation from us. Usually they wonder how we can pay the European prices with a salary worth 100 Euro.  
And how?
Not at all. We pay for food with our salary, but we are unable to pay for utilities, clothes, or health insurance. Here they are not thinking about where to go on holiday they are waiting for good weather because they do not have to pay for heating. They are saving money during summer to pay gas bills during winter. If somebody gets sick their family becomes financially broke. You cannot rely on healthcare here anyway. We recently received a letter from the health department to help them obtain vaccines because since October they cannot provide vaccines for new-borns.  About five thousand new-borns are without vaccination against tuberculosis and poliomyelitis and an epidemic can break out anytime. How can this happen in Europe of 21th century? Is there no money? Do not make me laugh. In this country they would like to build a wall on the Russian border for many hundred millions of dollars. Whose interest is that, why it is needed? They spend millions for pointless things every day and they forget about the expenses what would be useful for the country. Our foreign guests do not understand why people do not leave this place behind.
And how can you explain it to them?
There is no rational answer for that. Many have the possibility to leave but they still stick to their homeland. They rather risk and suffer and they hope for a better future for their children. I admit that there is fear in me too I can sense the weakness in me and in my community too, but I know that we must not flee because of this.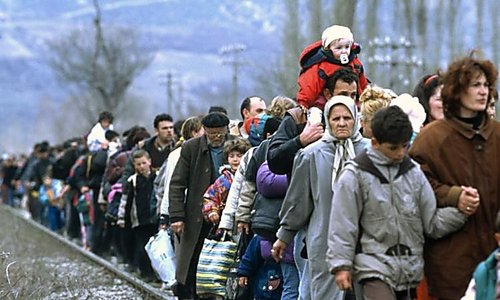 Not even in war? What worse thing would make you leave?
Obviously there are people who would be glad if we were not here, so this is why I do not want to give them ideas. The people would like to stay. The good weather is here, they sat out on the porches, they came out to the gardens and discussed the problems, soon they will get to work, change the seeds, prune trees, and they are getting prepared for Easter. This encourages me. What does it mean? It means that there is still some lard in the bowl, maybe the ham is also hanging somewhere and there is a little money to paint the fence. In the Sub-Carpathians there is still some spiritual reserve despite the multiple difficulties they have faced in life, they still have faith and look into the future with hope.
Who are these people? Defenders of Zrínyi Ilona or foot soldiers of Rákóczi?
These people are the ones who remembered their cattle for decades after the collectivization of farms. Who call the villages and streets the same despite them bing renamed by the political powers. Who are open to new things, but do not forget their past, the heritage of their ancestors, their mother tongue, who like to sing and work too. They were decimated by the gulags of Stalin, they were threatened and exploited but they got back on their feet again and again. I believe that after this crisis there will be new beginning. When I hear the 'slaves' of the western companies laughing after work despite their hardships, I am glad because they have work though they earn peanuts, but after work, they can go home to their families not like those who are in the frontline or those who had to flee abroad because of the unemployment and conscription. I think the humanity and patriotism of this people is determined by their faith in God this is why they have strength to see the heavens not just the earthly temporary things. This people have nothing but they are still very rich.
 You mentioned that you consider yourself weak. Did you also consider giving your position to somebody else last year during the elections?
If there had been another candidate I would have considered this possibility. Sometimes I felt tired, broken, and lonely, but I saw that these situations happened with reason. There was a time when I tried to solve problems with my own effort and I did not rely on God enough, it was not with fully open heart,  I read the Bible because of habit or I did not pray enough or well. The bishop is the leader, but he is also led by God. And if he forgets this, he can easily miss the goals. For those who have not ever felt the leadership of God it is hard to explain. Maybe for many it is just a childish imagination, but for me it is reality. If it was not so, I would have collapsed long ago.
How can you manage with a responsibility like this?
In the awareness of God's faithfulness, God never leaves His those that follow him, and wants good for them, he has the power to bring to completion the ideas he gives to his people. I do in this situation what I have to do. I do not follow my thoughts and I do not believe in my petty human tricks. We have so many blessings and achievements here in Sub-Carpathia despite the problems that cannot be explained by human reason. With this faith I look to the future and despite the fact that I cannot see the end of the tunnel I know that there will be a small ray of light at the end.
Written by Sándor Kiss
Originally published in Reformátusok Lapja
English version: János Neuberger, Njeri Wagana
Photos: reformatus.hu; HRCA
Cover photo: The Wounded Angel by Hugo Simberg (1903)
/Atheneum Art Museum/